Hereditary Cancer Screening
Uncover Your Genetic Blueprint, Stop Cancer Before It Strikes
we can empower our future health through genetic risk knowledge
CancerRiskDx™ is a genetic test for those who want to know more about their risk of developing cancer, why it might be common in their family, or want to inform treatment options following a cancer diagnosis. CancerRiskDx™ screens for genes associated with increased risk for common hereditary cancers. Our CancerRiskDx™ multi-cancer panels include commonly screened-for genes associated with 125 types of cancer.
Approximately 5 to 10 percent of all cancers can be attributed to inherited variants or mutations [1]. Patterns of cancer can be seen in families where people have these mutations. If you are concerned about cancer patterns in your family, genetic testing can give you more information.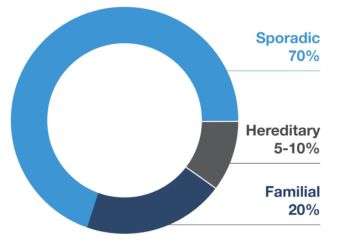 Inherited mutations can significantly increase lifetime risk for cancer [2]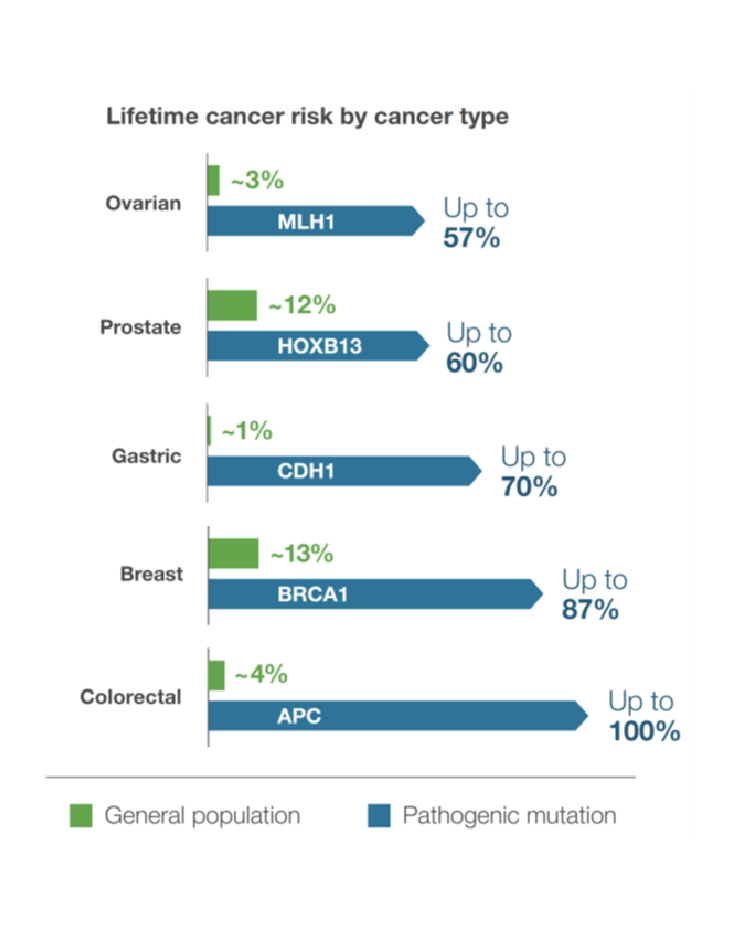 Many patients at high risk for hereditary cancer are not tested
When to consider testing:

Personal or family history of cancer at age 50 or younger.
Personal or family history of ovarian, breast, pancreatic, colorectal, lung, or metastatic prostate cancer.

Multiple cancers or tumors on the same side of the family.

You are concerned about personal or family history of cancer.
CancerRiskDx™ detect >99.9% of described mutations in the included genes, when present (analytic sensitivity).
CancerRiskDx™ Hereditary Cancer Test may help you understand why your cancer developed and what treatment options are available to you. This information can help you make informed decisions, in partnership with your doctors, about your therapy and surveillance options. This knowledge can help you talk to your family members about their cancer risks.

Why Test with CancerRiskDx™
CancerRiskDx tests for 316 genes linked to 50+ types of hereditary cancer, including commonly occurring types such as breast, ovarian, colorectal, pancreatic, prostate, and stomach cancer.

All selected genes are evaluated by next generation sequencing (NGS) with 99.9% accuracy with minimum potential for error.

Identifying cancer at an earlier stage provides you important information to better manage your risks and prevent secondary cancers.

The test provides a complete picture of your genetic risk, with only one test. This means that you will not have to go through multiple tests or pay for different types of tests. This one test can provide answers to multiple questions about inherited cancer risk, saving both time and money.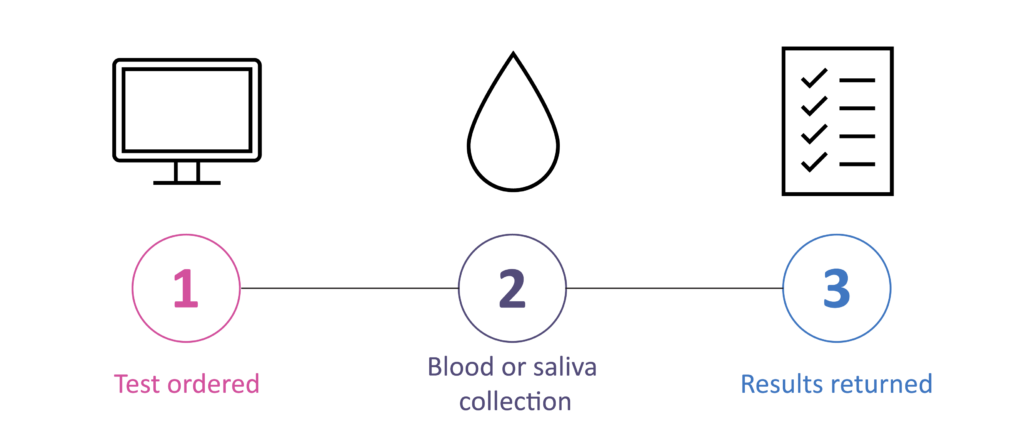 Sample Preparation Instructions
All clinical materials should be collected with approved methods to avoid contamination and cross contamination. A sterile environment must be maintained when collecting samples. Our sample preparation requirements are detailed in the table below:
EDTA Blood
≥ 1 mL
Buccal swab
1 Oragene™ OCR-100 buccal swab collection set
Saliva
1 Oragene™ OG-610 saliva collection set
Ready to use DNA
≥ 1 µg
For DNA samples, we recommend extraction using Qiagen kits, elution in water in 20 µL volume (min), plus evaluation of 260/280 Ratio (1.6 - 2.1) and fluorescent dye quantification of concentration (> 10 ng/µL) before sending.
EDTA Blood, buccal swab, saliva and DNA samples can be sent via regular mail at room temperature. Liquid blood is stable for up to 4 days during transport.
Sample should be sent to:
AGTC Genomics Sdn Bhd (1428365-D)
J2-1, Pusat Perdagangan Bukit Jalil,
Jalan Persiaran Jalil 1,
Bukit Jalil,
57000 Kuala Lumpur,
Malaysia
1.   Genetic Testing for Inherited Cancer Susceptibility Syndromes, National Cancer Institute. March 2019. Available at: cancer.gov/about-cancer/causes-prevention/
2.   NCCN Clinical Practice Guidelines in Oncology Genetic/Familial High Risk Assessment: Breast, Ovarian and Pancreatic v1.2020
3.   Cragun D, Lewis C, Camperlengo L, Pal T. Hereditary Cancer: Example of a Public Health Approach to Ensure Population Health Benefits of Genetic Medicine. Healthcare (Basel). 2016;4(1):6. Published 2016 Jan 8.