Comprehensive Pharmacogenomics Test
Optimizing Drug Response with Precision
The GenMedRx Comprehensive Test is a pharmacogenomic (PGx) assessment that examines a person's genetic makeup to aid physicians and pharmacists in predicting their response to various medications. This test encompasses numerous drugs employed to address a broad spectrum of health issues, such as cancer, mental disorders, chronic pain, cardiovascular diseases, and beyond. The report consolidates the findings, presenting genotype and phenotype data for drug metabolizing genes and details on the 300+ medications included in the test.
Advantages of Pharmacogenomics
Pharmacogenomics (PGx) focuses on understanding how genetic variations influence an individual's response to medications. In a study, over 99% of participants had a genotype linked to an increased risk for at least one drug. 1 The insights gained from pharmacogenomic research can lead to enhanced outcomes for patients and healthcare providers by improving medication safety and effectiveness while reducing medical expenses.
Employing pharmacogenomic techniques can ultimately empower healthcare providers to:

Optimize the intended purpose of a medication or therapy
Minimize adverse drug reactions
Accelerate the attainment of a drug's therapeutic benefits
Lower the likelihood of side effects or dependence
Reduce healthcare costs through:

Utilizing genomic data to select the most suitable and cost-effective drug initially
Identifying and mitigating adverse drug reactions early in treatment, thereby:
Shortening hospital stays
Decreasing hospital readmissions
Lowering emergency room visits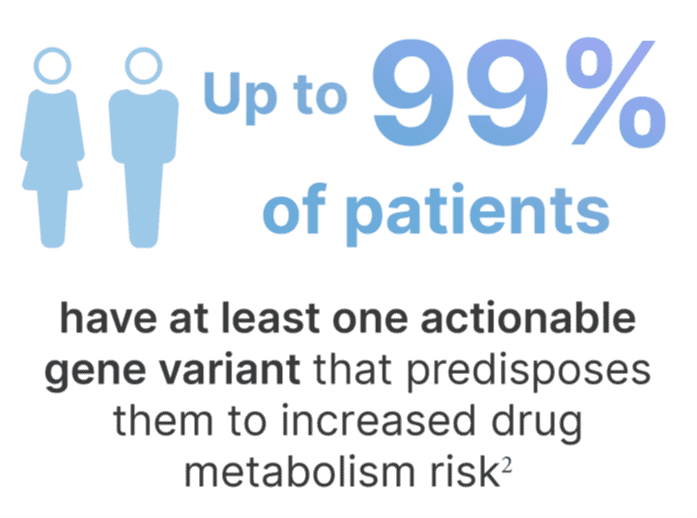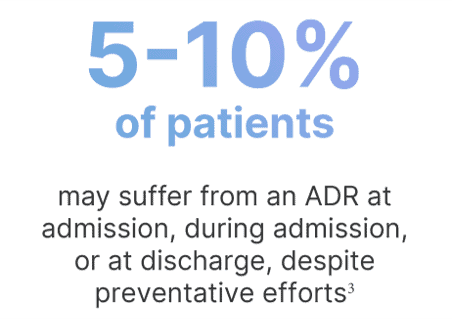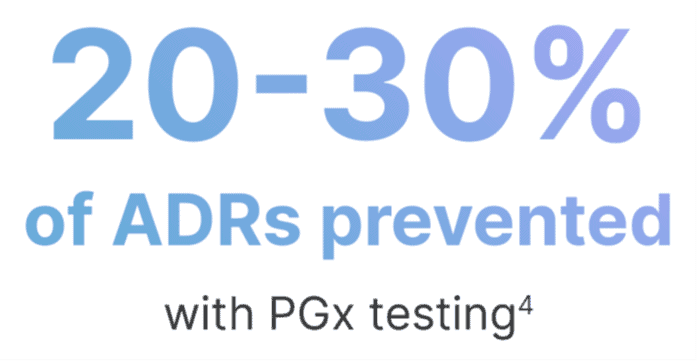 Cost-Effectiveness of Pharmacogenomic (PGx) Testing
Explore the data that highlights the benefits of PGx for institutions, medical professionals, and patients, and understand how PGx testing enhances healthcare.
Pharmacogenomics Patient Stories
Mehri's Path to Wellness via Pharmacogenomic Testing
Mental health advocate Mehri Coulter shares her challenges with bipolar disorder and how she ultimately found balance and well-being through pharmacogenomic testing.
Experts in personalized medicine and opinion leaders discuss their viewpoints on PGx and its present status within their respective nations.
Sample Preparation Instructions
All clinical materials should be collected with approved methods to avoid contamination and cross contamination. A sterile environment must be maintained when collecting samples. Our sample preparation requirements are detailed in the table below:
EDTA Blood
≥ 1 mL
Buccal swab
1 Oragene™ OCR-100 buccal swab collection set
Saliva
1 Oragene™ OG-610 saliva collection set
Ready to use DNA
≥ 1 µg
For DNA samples, we recommend extraction using Qiagen kits, elution in water in 20 µL volume (min), plus evaluation of 260/280 Ratio (1.6 - 2.1) and fluorescent dye quantification of concentration (> 10 ng/µL) before sending.
EDTA Blood, buccal swab, saliva and DNA samples can be sent via regular mail at room temperature. Liquid blood is stable for up to 4 days during transport.
Sample should be sent to:
AGTC Genomics Sdn Bhd (1428365-D)
J2-1, Pusat Perdagangan Bukit Jalil,
Jalan Persiaran Jalil 1,
Bukit Jalil,
57000 Kuala Lumpur,
Malaysia
1. Harper AR, Topol EJ. Pharmacogenomics in clinical practice and drug development [published correction appears in Nat Biotechnol. 2012 Dec;30(12):1249]. Nat Biotechnol. 2012;30(11):1117-1124. doi:10.1038/nbt.2424
2. Dong D, Ozdemir S, Mong Bee Y, Toh SA, Bilger M, Finkelstein E. Measuring High-Risk Patients' Preferences for Pharmacogenetic Testing to Reduce Severe Adverse Drug Reaction: A Discrete Choice Experiment. Value Health. 2016;19(6):767-775. doi:10.1016/j.jval.2016.03.1837
3. Chan SL, Ng HY, Sung C, et al. Economic burden of adverse drug reactions and potential for pharmacogenomic testing in Singaporean adults. Pharmacogenomics J. 2019;19(4):401-410. doi:10.1038/s41397-018-0053-1
4. Alfirevic A, Pirmohamed M. Genomics of Adverse Drug Reactions. Trends Pharmacol Sci. 2017;38(1):100-109. doi:10.1016/j.tips.2016.11.003