Circulating Tumour DNA (ctDNA) Liquid Biopsy
Empowering Your Cancer Journey with Real-Time Insights & Non-Invasive Precision Monitoring
we could could monitor metastatic cancer without invasive procedures
Non-invasive. Precise. Life-changing
LiquidDx™ circulating tumour DNA (ctDNA) liquid biopsy is a cancer test that checks for cancer cells in your blood instead of taking a tissue sample from your body. This test uses modern technology called next-generation sequencing to look for tiny pieces of DNA from cancer cells in your bloodstream. This type of testing is more accurate and specific than traditional cancer tests and can provide important information about the changes in your cancer cells. The best part is that ctDNA liquid biopsy is non-invasive, meaning no tissue samples are taken from your body, making it a convenient and less painful option for monitoring cancer.
Circulating tumour DNA - An alternative to invasive tissue biopsies
Tumours can release a significant amount of DNA into the bloodstream, and this DNA is referred to as circulating tumour DNA (ctDNA). ctDNA is a valuable source of information about the genetic changes in a patient's tumour, and its analysis has emerged as a non-invasive alternative to traditional tissue biopsies for cancer diagnosis and monitoring. By analyzing a patient's blood sample, ctDNA can provide information about the genetic mutations present in the tumour, which can help inform treatment decisions and monitor the effectiveness of therapy.1 LiduidDx™ can assess numerous tissues and biomarkers from plasma samples. Comprehensive genomic profiling using ctDNA consolidates hundreds of markers into a single assay.

ctDNA and Liquid Biopsies in Cancer
Circulating tumour DNA sequencing might play a role in cancer diagnosis, prognosis, and measuring treatment response.

Companion Diagnostics
Identify actionable alterations in tumours without an invasive biopsy
Measure tumour heterogeneity

Monitoring for Therapeutic Response
Determine treatment efficacy
Test for new actionable alterations

Monitoring for Residual Disease
Assess remission or progression

Screening
Determine presence of disease with no prior evidence
Adding CGP from liquid biopsy further enables precision medicine

As a relatively noninvasive method for sample acquisition, liquid biopsies are especially valuable when the tissue of interest is inaccessible. Even when diseased tissue can be accessed, re-biopsy for monitoring is desired for many diseases for which ctDNA analysis offers several advantages.
Liquid biopsy sample acquisition can be done through common phlebotomy methods for which properly trained professionals are
abundant. Tissue biopsy, on the other hand, often requires specialized skills from qualified technicians or surgeons. For this essential step,
liquid biopsy is more cost effective, offers a shorter turnaround time, and has less chance of adverse associated events.  Multiple guidelines have been revised to recommend liquid biopsy for certain tumor types, especially in cases where tissue biopsy is unavailable, such as non-small cell lung cancer.2,3
ctDNA analysis has been refined to become a tool for assessing tumour heterogeneity and overcoming tissue sampling bias. ctDNA analysis can be used to monitor disease progression and response to treatment. With sequencing methods that can identify new mutations, liquid biopsy can be especially useful for monitoring acquired resistance arising from new alterations. Thus, liquid biopsy can identify new mutations during disease progression and mutations arising in new tissues outside of the original tumour source.
Liquid biopsy is recommended today by guidelines
Different tumor types may have specific use cases for liquid biopsy, such as when:
Patient is medically unfit for a tissue biopsy
Insufficient material is available
Tissue biopsy is unavailable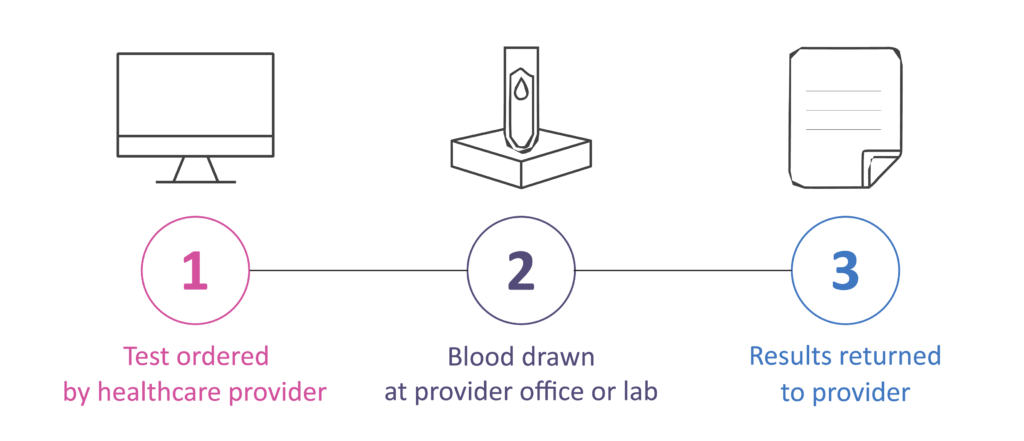 Sample Preparation Instructions
All clinical materials should be collected with approved methods to avoid contamination and cross contamination. A sterile environment must be maintained when collecting samples. Our sample preparation requirements are detailed in the table below:
| | |
| --- | --- |
| Blood | ≥ 20mL blood collected in EDTA or Streck tubes, no Heparin tubes allowed. |
| Plasma | Plasma samples should be collected and separated within 2 hours of collection, if possible, as longer times impact degradation and downstream sequencing success. Double spun plasma is also acceptable. |
| Frozen plasma | 5 - 10 mL plasma frozen at -80°C with no signs of haemolysis. |
EDTA Blood can be sent via regular mail at room temperature. Plasma must be sent via refrigerated shipping. Frozen plasma must be sent via frozen shipping (with dry ice).
Sample should be sent to:
AGTC Genomics Sdn Bhd (1428365-D)
J2-1, Pusat Perdagangan Bukit Jalil,
Jalan Persiaran Jalil 1,
Bukit Jalil,
57000 Kuala Lumpur,
Malaysia
1. Bettegowda C, Sausen M, Leary RJ, et al. Detection of circulating tumor DNA in early- and late-stage human malignancies. Sci Transl Med. 2014;6:224ra24.
2. Rolfo C, Mack P, Scagliotti GV, et al. Liquid Biopsy for Advanced NSCLC: A Consensus Statement From the International Association for the Study of Lung Cancer. J Thorac Oncol. 2021;16(10):1647-1662.
3. Mosele F, Remon J, Mateo J, et al. Recommendations for the use of next-generation sequencing (NGS) for patients with metastatic cancers: a report from the ESMO Precision Medicine Working Group. Ann Oncol. 2020;31(11):1491-1505.